Kashmir travel is on every Indian's itinerary, one of the main reasons being it is one of the rare places in India where you can see snowfall!
Kashmir is a dreamland with snowclad mountains, acres of flowers and gardens, and beautiful rivers.
A visit to Kashmir validates that it is indeed a paradise on earth. The people of Kashmir are friendly to tourists.
If you want to explore a new place, within India, which would give you a lifetime experience, it is Kashmir. Each season in Kashmir has unique things to offer you. You have the snowy mountains in winter, and in summer, it's Tulips festival time. Tulips start to bloom in March and it is a wonderful and rare experience to witness it.
Kashmir has a long history. Legend has it that the name Kashmir came from Kashyapa Rishi, who was instrumental in bringing up the land from a lake called Satisar.
It is believed that the great sage of India, Sankaracharyar wrote Soundarya Lahari sitting on top of a hill in Kashmir, called Gopadari.
The famous Sarvanja Peeth of Sri Sarada Devi Temple, which is associated with the Sri Adi Shankaracharya is also in Kashmir.
Why Do People Visit Kashmir?
Tourists visit Kashmir for several reasons, including:
Natural beauty: Kashmir is known for its breathtaking natural beauty, including picturesque landscapes, snow-capped mountains, and pristine lakes.
Adventure sports: Kashmir offers a range of adventure sports, such as skiing, trekking, rafting, and paragliding, which attract adrenaline junkies from around the world.
Cultural heritage: Kashmir has a rich cultural heritage, with historical monuments, religious sites, and traditional handicrafts that offer a glimpse into its unique culture.
Cuisine: Kashmiri cuisine is known for its aromatic spices, rich flavors, and unique cooking techniques. Foodies visit Kashmir to try traditional dishes like Rogan Josh, Gushtaba, and Kahwah.
Shopping: Kashmir is known for its high-quality handmade products, such as Pashmina shawls, carpets, and woodwork. Tourists visit Kashmir to shop for these unique items.
Spiritualism: Kashmir is also known for its spiritual and religious significance, with several shrines and pilgrimage sites, including the Amarnath Cave and Hazratbal Shrine, attracting devotees from around the world.
Kashmir currently is a favorite tourist spot for Indian tourists.  This place has everything one looks for in a holiday.  Serenic atmosphere, good food, good stay, and new and interesting experiences.
Why is Jammu and Kashmir called Heaven on earth?
Jammu and Kashmir have the name "Paradise on Earth" due to the region's breathtaking natural scenery.
It boasts spectacular landscapes of snow-capped mountains, verdant valleys, and pristine lakes.
Jammu and Kashmir are home to countless gardens, many of which feature terraced lawns, cascading fountains, and flowerbeds stocked with exotic plants.
Top Places to Visit During your Kashmir Travel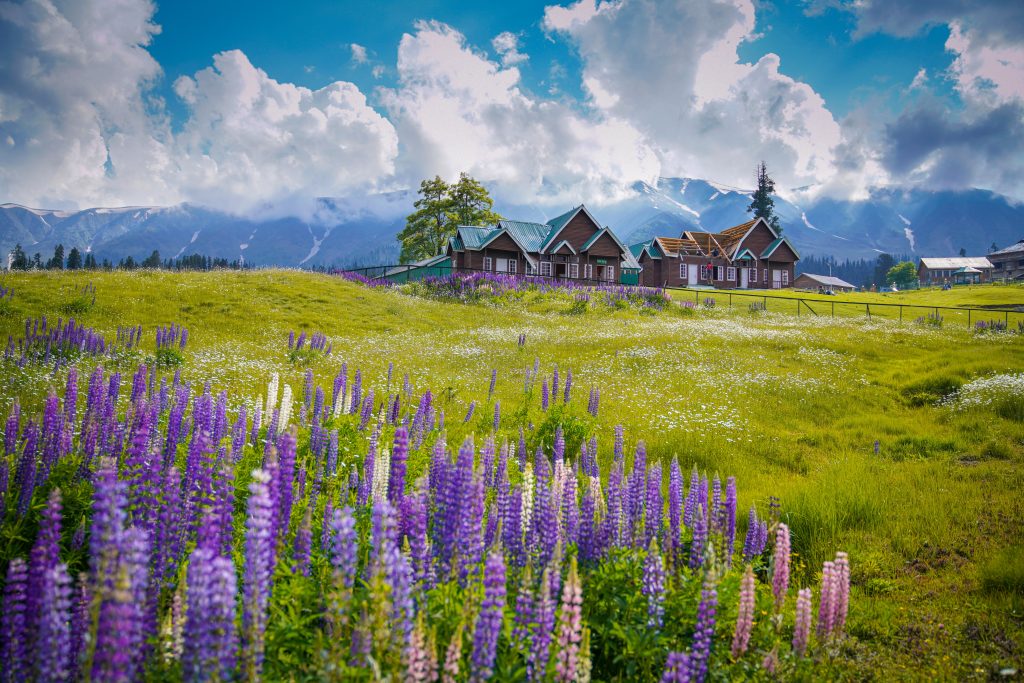 Gulmarg
Like to experience snow? This is your go-to place to experience snow in Kashmir.
Gulmarg is a paradise one might visit.
Here are some of the highlights of the place.
Aphwarwat Peak
This is a large peak and the entire area gives you a feeling of the Swiss alps.
This is a great place for all those who love adventure.
You can reach the Aphwarwat peak via gondola and enjoy the scenery of snow-clad mountains.
Alpathar Lake
You can see the Alpathar lake at 4380 meters above sea level. This is a stunning lake at the backdrop of the snowclad mountains and beautiful valleys, and the trek is worth the effort. You may also do a pony ride to reach this place.
The Alpathar lake freezes during the months of November to June.
Ningle Nalla
People come to Jammu and Kashmir to enjoy it is scenic beauty that is so different from other parts of India. Ningle Nalla is a stream that originates from the Alpathar lake and aphwarwat peak. The banks of this stream has been always popular as a picnic spot of royal members as well as British officers.
Sonamarg
Sonmarg is a magnificent hill station located 80 km away from Srinagar. This is a historic place dating back to its existence during the times of the Silk Route. Otherwise known as the silk road, the path originated in China, basically to sell Chinese silks. Later, the route saw a steady flow of merchants selling anything from silk to spices and precious stones to fruits and vegetables.
Sonmarg is where the silk route connected the stretch of Jammu and Kashmir to Tibet. There are also projects currently to revive this ancient historical silk route and bring the old system back into place with an element of modernity to increase business opportunities in the countries along the way of the Silk Route.
This place has no permanent residents as the place is uninhabitable during winter. It is notorious for avalanches and massive snowfalls.
If you are not looking for snow, then April to June is the best time to visit. In addition, you will be able to see a clear vast sky and the valleys carpeted with beautiful flowers.
River in Sonmarg
Three rivers originate from Sonmarg namely, Neelum, Lidder, and Sindh. They all run in the same direction and are the tributaries to the Jhelum river.
The Lidder is starting from the Kolhoi glacier in Sonmarg. It runs through the Lidderwat alpine meadows and hence the name Lidder.
The Sindh river originates from the Machoi glacier at an altitude of 4800 meters above sea level.
The Neelum river has its origin at the Kashansar lake.
These are beautiful rivers with beautiful valleys by the side of it.
The lakes in Sonmarg
Vishansar lake
The Vishansar lake is from where the Neelum River originates. This is a beautiful lake that freezes in winter. The summertime gives an ethereal view of a green valley and a beautiful setting.
The lake's name Vishansar means lake of Vishnu. Kashmiri pundits hold this lake in high regard and attribute spiritual value.
Krishansar lake
The Krishansar lake is situated near the Gadsar pass. The name is translated as Lake of Krishna. This lake is also frozen during the winter as is only barely 1 km away from the Vishansar lake.
Gadsar lakes
In the Kashmiri language, fish is called Gadsar. The name for this lake is Gadsar because you can see a lot of fishes here. Gadsar is also called Yemsar named after the God of death. This has some mythological stories behind it. They say there is some kind of a being that will engulf any creatures going near the lake.
For fishing, people go to a stream that goes out from the lake, and does not generally fish from the lake directly, probably because of the myth.
In summer, the alpine meadows surrounding the lake are filled with beautiful wildflowers, hence it has the name valley of flowers.
Gangabal lake
Gangabal lake has a prominent place in the lives of Kashmiri pundits. This is where they immerse the ashes of their dear ones who have passed on to the other side. The Kashmiri pundits visit this place on the day of Ganga Ashtami as a part of the ritual. This place is considered an abode of Shiva.
The Gangabal lake is situated in Mount Haramukh and hence is also known as Haramukh Ganga.
Satsar lake is a group of seven lakes situated more than 65 km from Srinagar. You have to start trekking 65 km further down to reach this place. the lake and the surroundings witness heavy snowfall during the wintertime and hence tourists are not allowed to this place.
Summertime is the best time to visit where you can view a colorful blanket of flowers in the valley. In high summer, some of the lakes in this group may dry up. No doubt, It is a beautiful setting worth the visit.
There are a lot of good hotels available at Sonmarg which you can choose from. The place has a setting in the backdrop of beautiful meadows and mountains and the staying here and lazying around for a relaxing holiday, Sona Marg is the best place to be in.
Dal Lake is a must-see in your Kashmir Travel
The crown jewel of Srinagar, the summer capital of Jammu and Kashmir is the Dhal lake. Old Hindi movies featured the dhal lake in their songs and popularized it all over India. You can explore the lake in a small heritage boat called shikara.
The people of Jammu and Kashmir are friendly to tourists. Tourism is their livelihood and hence they welcome you with open hearts.
Food in Kashmir
Kashmiri food consists of veg and nonveg food. Vegetarians have plenty of options, in the traditional Kashmiri menu. Kashmiri dum aloo is a delicacy that is popular all over India.
What to buy in Kashmir
Saffron
Kashmiri saffron has a high value because it has a very good colour and nutrient content to it. The stigma of the saffron flower becomes the spice called saffron. One flower will produce only three to four stigmas. A large amount of flower is needed to reach 1 kg of the stigma. Due to this laborious process, saffron is costly. A few villages in Srinagar do this, and hundreds of local people work in this field.
However, even in Srinagar, you may come across not-so-high-quality saffron, hence you need to buy them from authentic sellers.
Pashmina shawls
Made from the wool of sheep, the Pashmina shawls are quite popular with their ethnic designs and the softness, and warmth it provides. The traditional Pashmina shawls are handwoven by local artisans. Wearing one of these is sure to give you a regal feel, and in fact, the royals of Kashmir used this widely, which was not affordable to ordinary people. Pashmina shawls are costly even these days.
Kashmiri Carpets – not to miss during your Kashmir Travel
If you are a lover of carpets, then Kashmir is the place to buy one of them! The Kashmiri carpets have unique colours and designs, and you will fall in love with them at the first glance. People from around the world come to Kashmir to buy these beautiful works and adorn their homes. They are handwoven and made of pure silk or wool. These are one-of-a-kind and a must-buy when you are in Kashmir.
Apples
In India, apples traditionally grow in only one place and that is Kashmir. The indigenous variety of apples is delightful and crispy. Kashmir exports these apples to many countries like Bangladesh and Nepal.
Along with apples, peaches, plums, cherries, apricots, etc. are also grown there and you can also buy these fruits as dry fruits. Kashmir is one of the famous places to buy dry fruits, so do not miss these during your travel to Kashmir.
Nadur Yakhni – this is a vegetable broth with lotus root and yogurt as ingredients. This is a popular dish during the wintertime.
Dum Aloo: the delicious dum aloo is a Kashmiri specialty dish made of potato, tomatoes, yogurt, and spices. This goes very well with roti or pulao.
Haak: Green leafy vegetables, mainly spinach, are used to make this dish.
Chok Wangun – An interesting dish made of eggplant or brinjal cooked with spices and tamarind.
Modur Pulao – Kashmir-style pulao that comes in a sweet taste with dry fruits and nuts. Cooked in ghee, it is a pleasure to relish the aromatic rice.
Kahwah is a drink that is very popular in mountain areas. This green tea is added with cardamom, cinnamon, and saffron.
Phirni – Sweet made with cooked rice, milk, and sugar.
What to Buy on Your Kashmir Travel
Pashmina shawls
Pashmina is the name of the fleece of the goats in the Himalayan region. The artisans use the fine wool of the goats from the Himalayan mountains to make pashmina shawls. They often come with elaborate embroidery work.
Papier-maché
The art of making paper-mché is unique to Kashmir. The craftsmen will layer paper and glue to create interesting designs.
The artisans use pure pashmina to make Kani shawls. They use a technique called Kani weaving to make these shawls, and this technique is a traditional one that is unique to Kashmir valley.
Kani shawls
Walnut wood carvings
When you travel to Kashmir, be sure to pick up some walnut wood carvings, as they are a common form of local art. Cute boxes and trays to other decorative or collection items will be on sale there..
Dry fruits
Almonds, walnuts, dried apricots, and other dry fruits are also abundant there. It's common to find high-quality items conveniently packaged for transport back home.
Spices
Authentic Kashmiri cuisine is well-known for its use of premium spices and the region's long history of culinary excellence. You can find a wide variety of spices in the local markets. From saffron to cardamom all spices are available in Kashmir.
The Best Time to Visit Kashmir
Each season has a specialty in Kashmir, so it all depends on what kind of experience you like to have. Here are the major seasons of Kashmir, you could decide which time one you wish to go to.
March to May: this is spring in Kashmir and this is the best time if you like to see blooming flowers and greenery. The climate stays between 10 to 20 degrees Celsius.
June to September: Considered the summertime, this is the peak tourist season. The weather is pleasant and the temperatures will range between 20 to 30-degree celsius. This is an ideal time for trekking, hiking, boating, etc.
October to November: This is autumn. The weather is pleasant and cool. The temperature is 10 – 20 degrees Celsius.
December to February: Kashmir's winter, which lasts from December to February, is the coldest season of the year there. If you wish to witness snowfall, this is the time you should be there. Nights are freezing cold but this is also an ideal time for skiing, snowboarding, etc.
Know what time suits your interests and plan accordingly to make your Kashmir travel memorable.
Summary
Travel to Kashmir is on every Indian's wishlist. Kashmir is open to tourists now and a never-before rush of tourists is happening these days. It is a closer place to visit and enjoy the snowfall and lesser expensive than flying to a foreign country to experience the same environment. It is worth a visit because it is so different from the rest of the places in India. so, what are you waiting for? just go ahead and book your tickets for your Kashmir travel!